Introducing Quickwire™
The Quickwire junction boxes are remarkably simple. There are no screws, covers, clips or clamps. All you do is strip your cable before pushing it into one of the cable entry points. As you push, the cores are guided into their correct terminals, before a clever (patented!) shuttle design clamps down on the cable, completing the connection. It's really that quick and easy. What's more they're maintenance free, and completely reusable.
The Quickwire System In Action
Switch & Load junction box
– For Switched Lighting Circuits
A Quickwire Switch & Load has two power connections (loop in, loop out), one switched connection, and a Load connection. For more information see the Switch & Load product page.
Splitter Junction Box
For Lighting Circuit Distribution
The Quickwire Splitter is a straight through junction box, with all cable entry points connected to each other internally. Use a Splitter to extend circuits or add luminaries. For further information and specs see the Quickwire Splitter product page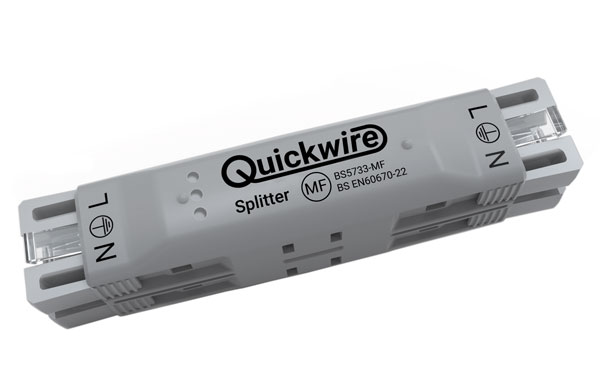 Quickwire Strippers
For Fast Efficient Cable Preparation
The Quickwire Flat Wire Automatic Stripper is a high quality, automatic wire stripper which is suitable for PVC-insulated flat cables with widths of up 12mm and diameters from 0.75 to 2.5mm², such as twin and earth. This stripper is ideal for preparing cable for a Quickwire junction box. For further information and specs, see the Quickwire Strippers product page
Pouse Around The House: Fit Lights Fast!
Voltimum: Quickwire Starter Pack Unboxing
David Savery Electrical Services: Quickwire review